1883: How it all began
Milestones in the history of BÜFA
When Ludwig Friedrich Carl Büsing and Friedrich Ludwig Fasch decided to set up a trading company for coloured woods, chemicals and oils in 1883, Oldenburg was ruled over by Peter II. (Grand Duke Nikolaus Friedrich Peter). 19,000 people inhabited the town in that year (over 165,000 today). The two cousins and business partners buy a plot of land on Bahnhofstraße for 50,000 gold marks. Then they got the ball rolling!

A lot has happened since then. Today, BÜFA has 650 employees and maintains several locations in Europe. The following list shows the essential development of the company.
1958 – 1970: BÜFA picks up speed!
• 75 years of Büsing & Fasch; inauguration of the new building Bahnhofstraße 10 in Oldenburg
• Distribution of reactive resins in cooperation with BASF
• Laying of the foundation stone for the new BÜFA production site in Oldenburg-Ohmstede
• Start of activities in the field of polyurethanes and cooperation with Bayer
1986 – 2004: Locations for the future
• Inauguration and commissioning of the new plant for the Cleaning Systems Division in Oldenburg-Ohmstede
• Corporate separation and restructuring of BÜFA Farben und Lacke, BÜFA Chemie and BÜFA Glas
• Inauguration and commissioning of one of Germany's most modern chemical distribution centres on a 50,000 m² industrial site at Hude near Oldenburg
• Proportionate takeover (50%) of the Dutch chemical trading company VivoChem BV in Almelo (100% takeover in 2006)
2011 – 2013: Strategic realignment
• Renaming of the strategic holding Büsing & Fasch GmbH & Co. KG to BÜFA GmbH & Co. KG.

• The current chairman of the advisory board, Jan Philipp Wuppermann, joins the management of BÜFA GmbH & Co. KG

• Takeover of the shares of KS Chemie GmbH in Düsseldorf in the Cleaning & Hygiene division

• Strategic realignment of the company's Composites activities

• Exit of the long-standing financial investor HANNOVER Finanz (12 %) and takeover of the shares by the shareholder group Wuppermann-Kolwey
2014 – 2016: The BÜFA Group is on a growth course
• The current CEO, Felix Thalmann, moves to the management of BÜFA GmbH & Co KG (Holding). The holding's management function is rounded off by CFO Ralf Ramke
• As of 01/01/2014, BÜFA takes over all shares in Tricura GmbH & Co. KG
• As of 01/01/2014, BÜFA holds a 25 % stake in SODASAN GmbH in Uplengen
• Commissioning of the logistics and warehouse expansion in Almelo (ViVoChem BV).
• Sale of the remaining 49 % shares in SEMCO Glas + Konstruktion GmbH & Co. KG (formerly BÜFA Glas) to SEMCO Glas Holding (Westerstede).
• BÜFA Reinigungssysteme founds grüner shoppen GmbH & Co. KG, through which SODASAN products are sold online.
• Incorporation of BÜFA-i GmbH & Co. KG on 01/07/2016. The aim of the start-up is the development of web-based solutions for the digitalisation of the chemical trade.
2017 – 2019: Growth and change
• Participation in High-Tech Gründerfonds (HTGF) (so-called "founder funds")
• Renaming of the start-up BÜFA-i GmbH & Co. KG to chembid GmbH & Co. KG.
• Integration of the activities of KS Chemie GmbH into BÜFA Reinigungssysteme GmbH & Co. KG
• Inauguration of the extension buildings of BÜFA Composite Systems and BÜFA Reinigungssysteme in Rastede and Oldenburg
• BÜFA initiates start-up and innovation incubator "ZUKUNFT.unternehmen" in the old BÜFA Glass Hall in Oldenburg-Ohmstede with partners GIZ gGmbH and Barthel Stiftung
• Spin-off of BÜFA Thermoplastic Composites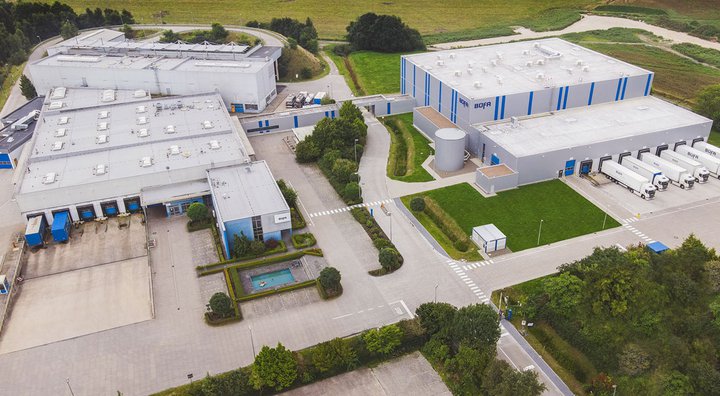 2020 – present: Modernisation and internationalisation
• Opening of the BÜFA Chemicals distribution centre in Hude
• Distribution of composites specialities via BÜFA distribution companies in Spain, Belgium, the Netherlands, Finland, Great Britain and Ireland
• Acquisition of Manningtree-based AOC (UK) Ltd. by BÜFA Composite Systems as of 3 March 2020 The company now trades as BÜFA Composites UK
• Participation in the European Circular Bioeconomy Fund (ECBF)
• BÜFA Reinigungssysteme takes over the Dutch TriStar group of companies and enters into a strategic partnership with the Swedish MacSerien group of companies